It was a strenuous process. Not quite as I had expected. Luckily I had the help of my sister. My bed split in two when we tried to bring it down as it had endured too much bumpings on the way. And when we finally reached on top of the basement's stair we've just let it go down the stairs on its own and that's when it split in two. And I was like "et merde!" but then I felt sedated, like all this was not really happening, so what if I end up losing my bed forever? hehe...
But then I went to fetch my hammer! After a couple of hammer shock at the right places the bed was back on its feet. To thank my sister for her precious help I made good ol' fried cakes and some chutney.(pictures below) It tasted great. Guess the tiredness made us appreciate the food!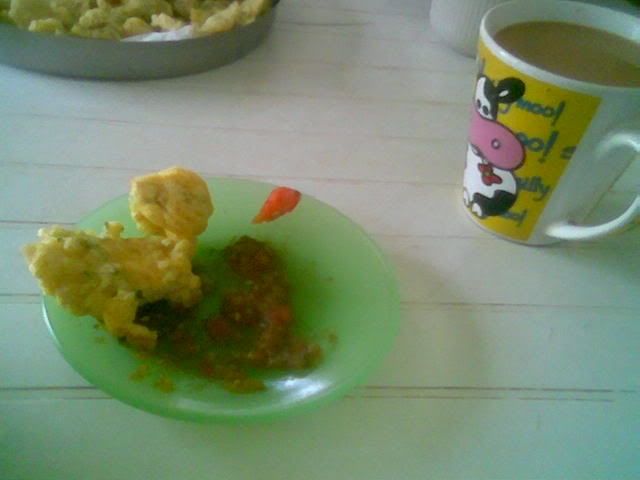 My mother was very mad at me those past days. I guess she's still against my moving down. But this is not going to stop me. I am young and adamant at proving that I can stick to the place without any problem even if I'll have to spend some cold nights down there before I find a way to provide more heat. A chimney? hihi... Why not. With me around nothing is impossible. About the party, it is really going to take place with some close friends around(those who wanna come). More will be said later!

So my room is still under construction. I hope to get done with all the finishing touches during this week end. Then I could post a picture of my cave like Yash said. And I need to buy a bat mobile. hahaha...

For now I'm going to light some candles and clean it a little.
So long ladies and gents and my convalescent alien.