Today was a weird day in absolutely every way. Was ill, home with my dad. Mum and Loo have gone to some relative's place. My father cooked lunch which consisted of pumpkins, some kind of root vegetable, rice, "dholl petit pois" with lots of bringels in it. All these were to be eaten with a papaya and lemon pickle. Ahem… but guess what? The food was eatable. but one hour later I started having terrible abdominal pains. I don't know if it was due to the food.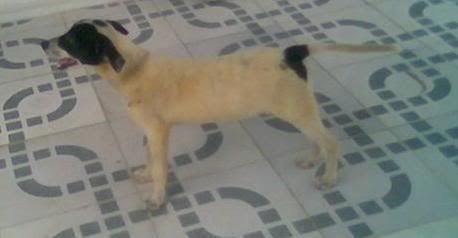 (this is cookie, just wanted to put her picture here) Then around 3 pm dad made tea and he made boiled maize with a sort of chutney. It was nice. Have you noticed yet that my dad's recipes are bizarre? And oh, by the way he is a vegetarian, so that explains all the vegetables.
After tea my dad went to work in the garden while I was watching TV. I have really enjoyed the 3 pm Hindi movie today. It had some well-placed no nonsense humour and great actors too.
Then I went to super u with my dad and since we are greatly efficient shoppers we did our shopping in less than 1 hour. No. of times I lost my father: 3. reason: because he had forgotten his mobile at home. Luckily he was wearing an orange shirt (I think I should stop criticizing his color choices from now on.) and that has helped me greatly to spot him. I don't know if it's just me but I was feeling really cold today.
So when we got back home I had decided to go for a walk in the hills not so far from my home. And we got LOST!!! Can you actually believe it? Luckily we found our way back just before it got too dark but I was really scared.
Back home it was my turn to make diner and I made spaghettis. It was simple, with only cheese and tomato paste. All this downed with a good lemon juice. And I had dark chocolate as dessert.
The rest of the evening is insignificant. Right now I am sipping some coffee and the cold has not left me yet. "cold in the heart, cold to the core, cold as a corpse with a dead soul" freaky huh.
So long people. Enjoy while you're warm.
p.s :
love you Jev!!