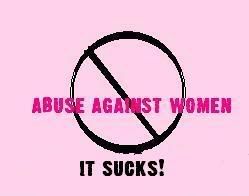 The form of abuse that I witness everyday is the abuse against women. No, these women are not physically or sexually abused (that is, not yet) but they sure are abused in a way that I guess not even them are aware of. I don't know how to name that form of abuse but I sure can describe it to you with some examples of incidents I've witnessed.
There is a girl who was a friend of mine, let's name her X and there was a guy who is well, an acquaintance, let's name him Y.
X used to be a very social, outgoing and fun-loving girl. There was no problem about that. She had friends and her friends were like her. That's until she met Y. At first the guy was OK with the way she is.
I met X last year after some years of not meeting and it was weird the extent to which she had changed. She was a completely different person.
And then I got to know through some friends that X's boyfriend has imposed many things upon her. Namely, not hanging out in places like the cafeteria (yeah the university cafet! duh!
), not speaking to other guys, that is classmates and the boyfriend's friends and most importantly, not to hang out with her original girl friends! Now what do you think of that? Outrageous?! Well, this is quite common around here (not applicable to all guys but still...). What the guy is doing is forcing a person to isolate herself from her friends and social life and this dudettes and dudes, is a type of abuse.
And the guy, he keeps going on with his social life as usual. That is, he hangs out in night clubs, wants to date girls and I saw him on various occasions "hugging" some random chicks right in front of the cafeteria, wise of him to tell his girl not to go around there, huh? He is "preserving" his long time girlfriend for the wedding, if you know what I mean.
As for the girl, she seems OK with the present situation, obediently accepting the rules, venerating her boyfriend and she has severed all contacts with her old friends.
As for me I don't know what to do. It hurts to see her like this. You think she is happy? I don't. She does not know about her boyfriend's other life. This illusion of a happy couple life brings her a fallacious happiness.
This has happened to so many women before. While still in the boyfriend-girlfriend stage the girl feels flattered if the guy shows some jealousy. It's like "oh my god, he cares". Yeah he cares! He thinks you're his object. And then when the couple gets married and the guy is totally assured that the woman is his for the rest of his life, then the true story begins. You'll see the whole series of physical abuse, sexual abuse, moral abuse, verbal abuse, you name it. Now how does if feel to be the property of someone? That's when the woman sees the true aspect of her husband but most of the time in our Mauritian society it is too late! Marriage is the ultimate holy step and you can't back down (mostly in Hindu marriages). The woman gets to live with the man she thought she knew for the rest of her life, looking after her children. She will most probably not be allowed to work, just to prevent her from being in contact with other men.
So, how do we put an end to that?
My take is that women should simply avoid getting in a relationship with men like that. It sounds easy saying it. In the case of my friend, she is way too in love to realise that she is being abused. I know she won't believe me if I told her the truth about her boyfriend. But she does need support, even though the help was not solicited by her. I sure hope she reads this. It is never too late to quit and start your life anew. Every woman has the right to freedom, freewill and happiness. And if this post helps at least one person. I'll be the happiest girl around.