So I got these awards from
Ropi
and quoting him
This award is handed to people whom I really respect and like.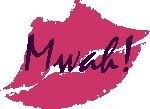 Hihi, that's cool! Then comes another award from Ropi again.

Well, thanks a lot for these Ropi! :D I'm really happy!
I wish to pass these on to all the dudettes and dudes on my blogroll but most specially to
BbZush
for being able to update her blog everyday with great posts! I wonder how she manages that! :D
Keli
, for her new journal which is so lovely and simply true to herself!
Jev
cause you need to move your eerrmm and post more often!
Hehe! So long dudettes and dudes and enjoy these awards! :D