Today I had a lovely Sunday. Not too much things happened but just enough to make it another lovely Sunday. The most pleasant and surprising stuff that happened today is that I got this award (shown below) from
Manictastic
. It's for his short story contest in which I took part and I must say I'm really touched and really really excited about it! I even showed it to my mum and sister, just to tell you how much I'm happy about it.
The short story I had written
can be read here
. Once again thanks a lot Manico! :D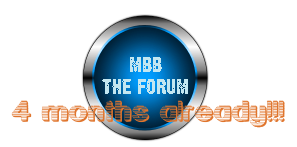 Another great event in my personal blogosphere is
MBB
's fourth month anniversary. I wish them the best of luck and keep to the great work going dudettes and dudes at MBB! (sorry for leeching the logo :P )
Apart from those, today I realised something really important, Valentine's Day is just some days away and I did not plan anything about it! Oh my God! I just hope the 14th is not as bad as it was last year; there was lots of rain. Argh!
So much for today dudettes and dudes and my happy aliens! Be good!