Some organisations tend to think that the only thing customers are searching for are discounts and lower prices. When special sales promotion work for some, others blindly follow, unaware of the fact that they could have sustained a regular clientele had they first invested in changing customer opinion regarding their organisation.
Recently, Spar and Jumbo have indulged into massive ad campaigns promoting their new pricing strategy. This campaign might be fruitful in the shortrun but I sincerely doubt that it will have any longterm impact due to the following reasons:
1. Their employees are incompetent, almost rude to customers; I've never once at City Spar been greeted nor smiled at by those girls who're supposed to handle bags and other belongings. They've just got a blank look on their faces and lazily take your bag and then give it back to you. Do you think they've got a special recruitment criteria to employ that kind of person?
It might seem unimportant to greet or smile at people, but for an organisation these immaterial things tend to add a little plus towards customer service. The organisation might spend a lot to attract customers, but at the end of the day it is the employees that come closer to customers and in customers' mind they represent the organisation. I think the way you make customers feel matter a lot. You wouldn't want to go home feeling all annoyed at the rudeness of a bag counter girl.
2. They've advertised massively but they haven't foreseen that they'll be getting an increased number of customers, so they would need to open up most of their cash counters to prevent long queues from forming. Last week at Jumbo Riche Terre I waited for 30 minutes in a queue and I was purchasing only 2 cables. They 'forgot' to open the "quick counters". Pictures below were taken yesterday and you can clearly see some unoccupied check-out counters and long queues.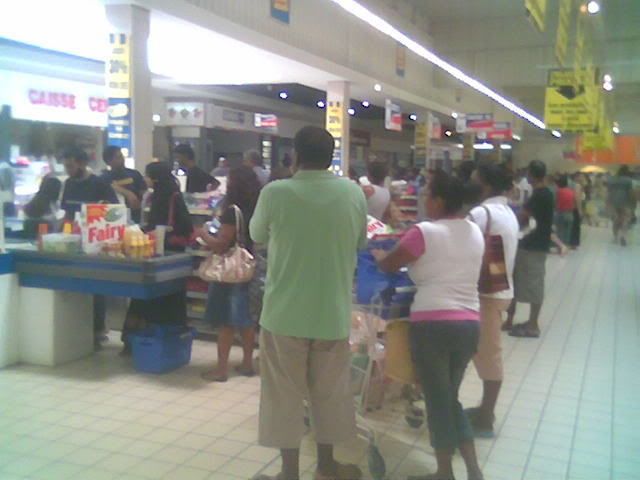 3. And my last point is that their prices are not even that low. Perhaps in Jumbo and Spar standards they could be qualified as discounted prices. But on the overall some products still remain priced above others found elsewhere.
Anyway consumers should think twice before getting lured by those advertising campaigns.
Just to make it clear, those situations were found in Jumbo Riche Terre and Spar Port-Louis, if the situation is different in other branches, I wouldn't know.